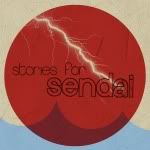 So I managed to grab some time this weekend to work on the story I plan on submitting to
Stories for Sendai
, an anthology edited by JC Martin and Michelle Davidson Argyle than plans to raise money to support recovery efforts in devastated Japan.
My story is called, "Kansai Oniisan." It is a literary thriller in short form, erring a little more to the psychological side than the suspense side, though both are present. I think the story fits in nicely with the rest of my work, and in some ways will give readers a bit of a bit more taste for how my long form fiction feels in some ways. If, "Kansai Oniisan." is not accepted into the anthology, I will likely post it directly to to
my website
as a Websclusive.
If you've followed any of my conversation about writing, you know that I don't always follow the best advice out there, and this is a case in which I have mostly violated one of the wisest principles of fiction writing: don't write with a point in mind. I routinely violate this rule in varying ways. In this case, because I am answering the call for stories that emphasize the triumph of the human spirit not by finding an appropriate story from my stash, but by writing one from scratch. Which means I'm writing with a very definite point.
That said, I'm also taking a a little bit of a chance and I'm sticking to my guns on it, sink or swim. I don't write very well on the community or cultural level. I'm all about individuals. I'm also less interesting in prevailing against external forces than I am in conquest against the forces within the individual. "Kansai Oniisan" is the story of one young man, under anonymous threat, and how his personal character fares when passed the crucible of the horrible. For me, it's definitely the triumph of the human spirit. It may not fit the tone and mode of
Stories of Sendai
, however, and I'm willing to let my story fit or be rejected on its own terms rather than try to turn it into a story it's not.
I like to think my being brave makes up for my other failings in this particular pursuit...
.Nevets.
Soundtrack for this blogpost provided by Alaap, Daler Mendhi, and Sardool Sikander!